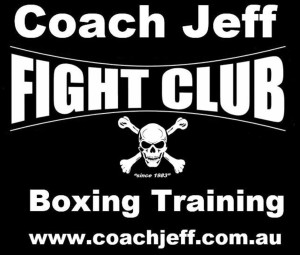 Are you tired of the same old PT offerings out there.
Come and Train like a fighter with a real life Boxer and Boxing Coach
With 100+ fights , let The Coach put his 40+ years of experience to use and get you fit to fight or just fit for life.
From those just wanting to get fit to full time fighters ….
all are welcome at The Fight Club.
I don't care if you have never put on a glove before …..
I don't care how old you think you are …….
I will teach you how to train like a fighter and get super fit.
Train in the Fight Club or the Coach will come to you.
– Learn Padwork / Skills and Drills / Ropes / Ringcraft
– Learn to Skip Rope
– Learn how to wrap your hands and Box Correctly.
– Get Fit , Healthy and into Great Shape.
Training packages available with Padwork starting from just $22 for a 30min HIT session.
Call Coach Jeff NOW !! 0421 908 746
Anytime and Anyday … Let's get started NOW !!