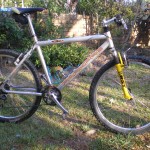 2016 Australian and World Retro Mountain Bike Championships …….. an Australian and World Championship for your pre 1995 mountain bikes conforming to the specs below.
Each year the Championship differs a little but generally consists of an uphill TT, a downhill TT and  a cross country race of about 1hr.  The Champion is decided by the fastest time across the three events.
Sept 2016 Brisbane.
Entries …… Open Soon
Sat Practice 8am to 12pm
Sat Racing 1pm to 4pm
Sun Racing 9am to 1pm

Australian and World Retro MTB Championship Bike Specs ……. Please note that these rules were made up after several beers so feel free to help me revise and modify em !!

Pre 1995 Hardtail Mountain Bikes Only
(1) Only mechanical rim braking systems allowed.
(2) No CARBON frames or components allowed.
(3) Only sprung or elastomer suspension forks.
(4) No more than 80mm of suspension travel.
(5) Cannot have any form of rear suspension.
(6) Cannot have any style of suspension stem or suspension seatpost.
(7) Cannot have any rim size other than 26″
(8) Must have square taper crank sets with triple chain rings.
(9) Must have a 6, 7 or 8 speed rear cluster.
Other rules may be added as we think of em or maybe you have one or two that you would like to suggest??
2015  Mens Champion – Mark Robson
2015  Womens Champion – Eloise Young
2014  Mens Champion – Doug Robinson
2014  Womens Champion – Eloise Young
2013  Mens Champion – Doug Robinson
2013  Womens Champion – Sandra Douglas-Young
2012  Mens Champion – Gary Hamilton
2012  Womens Champion – Casey Wilson

2011  Mens Champion – Jason Smith
2011  Womens Champion – No Contest
2010  Mens Champion – Jackson Davidson
2010  Womens Champion – Casey Wilson
2009  Mens Champion – Jason Smith
2009  Womens Champion – No Contest
2008  Mens Champion – Jason Smith
2008  Womens Champion – Belinda Jackson
2007  Mens Champion – Jeff Smith
2007  Womens Champion – Belinda Jackson
2006  Mens Champion – Jeff Smith
2006  Womens Champion – No Contest