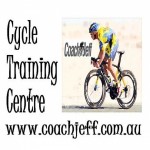 Got a bike and don't know what to do next ??
Get in touch with Coach Jeff at the Cycle Training Centre and make the most of his 30 years experience in helping people get started in cycling. Training sessions are conducted both day and night at times that suit you.

Cycle Training Sessions start from just $35 ……………..
where we will fit you to your bike and get you started on learning all about changing gears and what else to do with those lever thingy's sticking out the front.
Make an appointment NOW and we will see you at the Cycle Training Centre in Brisbane.
 email coachjeff@coachjeff.com.au
Training Session Examples ……….
Basic Training Session (1) – Basic Bike Fit Check and Bike Controls (brake and gear levers etc) Instruction, Question and Answer – where we will check your bike fit (seat height etc) and get you started on on learning all about changing gears and what else to do with those lever thingy's sticking out the front. – $35 (45 – 60min)
Basic Training Session (2) – Wheel Removal Instruction – where we will show you how to easily remove a wheel in readiness to change a tyre – $25 (25 – 35 min)
Basic Training Session (3) – Tyre Changing Instruction, Technique, Tips and Hints – where we will show you how to correctly change a tyre and give you some simple tips and hints on effective tyre changing. – $40 (45 – 60min)